Travel Far
A Beginner's Guide to the Out-of-Body Experience, Including First-Hand Accounts and Comprehensive Theory and Methods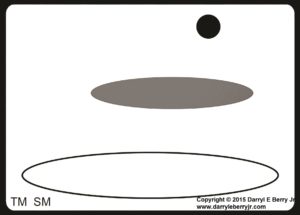 by Darryl E Berry Jr
Copyright © 2014-2020 Darryl E Berry Jr and/or Trademarks of Darryl E Berry Jr.
The out-of-body experience or astral travel is a mode of perception during which one experiences existing and traveling apart from the physical body. Things perceived and experienced are as real as the book you are holding, or the computer screen you are viewing. Have you ever awoken paralyzed, or felt falling or floating sensations, or sensed vibrations as you slept? You became aware of out-of-body experience precursors. And now you can learn to go farther!!
In this book you will:
* Find dozens of personal accounts of out-of-body experiences, so you can know what to expect, and that you do return safely.
* Learn what altered states are, so that you can access these states and expand your consciousness.
* Discover comprehensive, detailed, and tested techniques and methodologies on how to generate an out-of-body experience and maneuver through time, space, and other dimensions.
* Learn to establish first-hand that we survive physical death, and how to contact recently deceased loved ones.
You Are More Than Your Physical Body!!
Table of Contents
CLICK ON THE SECTION/CHAPTER TITLE TO VIEW THAT PAGE.
ALSO NAVIGATE WITH THE LINK AT THE TOP/BOTTOM OF EACH PAGE

PART ONE
FIRST-HAND ACCOUNTS
My First Exit / Floating and Falling / Flight Visualization / Getting Up to Use the Restroom / My 'Terror of the Threshold' / Big Ben / Beings of Light / Portal and Chakra Line / The Girl and The Monster / Demon-ology / The Desert World / Floating and Future Self / Street Walking / Place-There Shift / Multiple Bodied We / Danger Room
Meeting Friends / Meeting Ken / Fall, Friend, and Flee / Rope Projection and Walt
Robert Monroe / Bennie Berry
ET Visitations / Physical World Encounters / Okanos / Alien Faces
The Source and the Thiaooubans / Orin / Astral Cord Experience, Maybe / Fire Beings / Tube Entity Projection / Alien Writing / Box-Being Projection / Meet Me!! / Nighttime Visitor / The Guide Plane / Merkaba Shape / Source Self Visualization / Cat Attack / Short Explorations / Arm Up, Body Drop
Concentration Techniques / Immediate Projections / Time Travel / Lunch Break Projections
PART TWO
THEORY AND METHODS
Altered States / Progression Marker List / Flexibility of Consciousness / Parallel Processing
Concentration / Relaxation / Meditation / Visualization / Mental Projection / Energy Working / Awareness / Psychic Development
Timings of Practice / Practice Environment / OBE Asanas / OBE Mudras / Journaling / Goals and Motivations / Checklists, Graphs, and Charts / Psychological Prep for OBE / Physiological Prep for OBE / Patient Persistence
Centering Preparation / OBE Techniques and Routines / Sequence Samples / Finishing the Shift / Progression Flow Charts
The Universal Dream / Nocturnal Dreams / Unclear OBEs Mistaken as Dreams / Hybrid OBE/Dream Experiences / Levels of Nocturnal Dreams / Remembering Nocturnal Dreams / Becoming Lucid in Dreams / Using LDs as OBE Launchpad / Dream Convergence
Initial Movement / Modes of Movement
Standard Practice Schedule / Establishing a Ritual / Shedding Schedule and Ritual
Medications and Lack of Focus / Losing Awareness / Terror of the Threshold, Et Al / Psychic Protection / The Psychological Barrier / The Imagery Trap
The Nonphysical Body / Distance and Speed Capabilities / The Nonphysical World / The Void / The M-Band / The Park / The Akashic Records / The University / Time and Space During OBE
Spirit Guides / Other Travelers / Nonphysical Locals
Spirituality and Enlightenment / Ascension and Healing / Other Lifetimes / ETs, IDs, and Contact
OBE/AP Research Study List of Illustrations / Glossary of Terms / Bibliography / Research, Education, and Development / About the Author and Publisher